Visio 2002 Developer's Survival Pack Tools and Samples
ShapeSheet Browser
Visio 2002 DSP home This page
Overview
This tool simply surveys all the cells in a ShapeSheet (for a Shape, Page or Document) and presents them in rows and columns. This overlaps considerably with Visio's ShapeSheet window -- the main virtue of this browser is that its contents can be copied and pasted en-masse, for example to Excel or Word, where they can be nicely formatted for printing. As such, it is something of a replacement for Visio's "Print ShapeSheet" Addon, which is absent in Visio 2002's initial release.
ScreenShot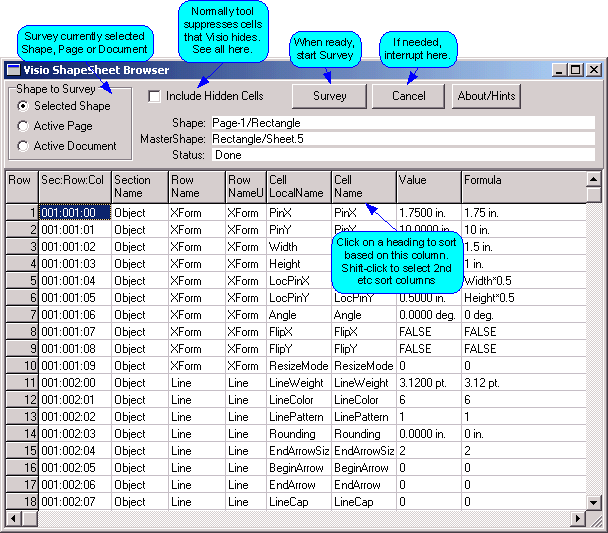 Operation
In addition to above instructions, you can also select one or more cells, and use Control-C to copy them. You can paste them into Excel for convenient formatting and printing.
Installation
This browser comes in two forms:
Stand-alone executable
Visio Solutions Library Addon (VSL)
Please see the common tool installation instructions for details of how to install and run each tool version.
---
Article Created: 2001-06-01 Last edit: Last edit: 01-07-26 Graham Wideman
Go to: DiagramAntics.com